OUR EXPERIENCE
Founded by Dean Brooks in 2002, db Props has grown from a small workshop to todays large scale facility at Shepperton Studios. Our new facilities allow a variety of production methods all in-house. These include Spraying, Moulding, Laser Cutting, 3D Printing, CNC Machining, Carpentry and CAD Drawing.
We take great pride in our work and our attention to detail is second to none. With over 30 years of experience in producing props for the film and television industry. With this experience and knowledge, we can advise on the best methods to produce the props you require. No prop is too large or small.
Dean Brooks – Director
Dean has been in the prop/model making industry since 1982. Starting out at (the now de-funked) "Keir Lusby Props" in Shepperton Studios. After a 22 year stint there he then went on to other projects and ended up starting "db Props Ltd" in 2002. Since then the company has gone from strength to strength moving in to bigger premises at the studios.
Dean has also been props/models supervisor on film and TV productions including:
Orsum Island
Snow White And The Huntsman
Thor II The Dark World
Guardians Of The Galaxy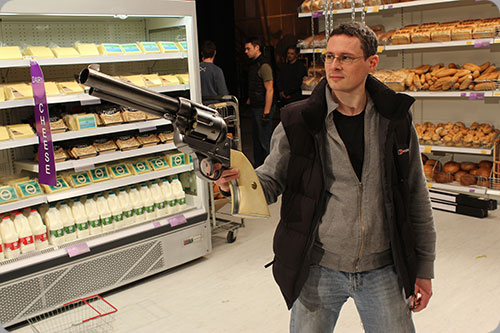 Phil Reeves – Workshop Manager
Phil completed his course at the College of Marketing and Design in Dublin and trained at Gerard Crowley Model Makers in Bray, Southern Ireland. He then worked at Thorp Model Makers in London for two years where he learned the basics in Architectural model making. After being offered a job at DBP Models in Shepperton studios, Phil began his career in the film and television industry. After a few years, he started working for himself and established a small business working largely in the exhibition industry but still based at Shepperton.
In 2005, he was given a placement on the Thomas The Tank Engine production and stayed there for three seasons as a Senior Modeller. Following Thomas, he was offered a senior position on Orsum Island, again as a modeller, where he remained for a year.